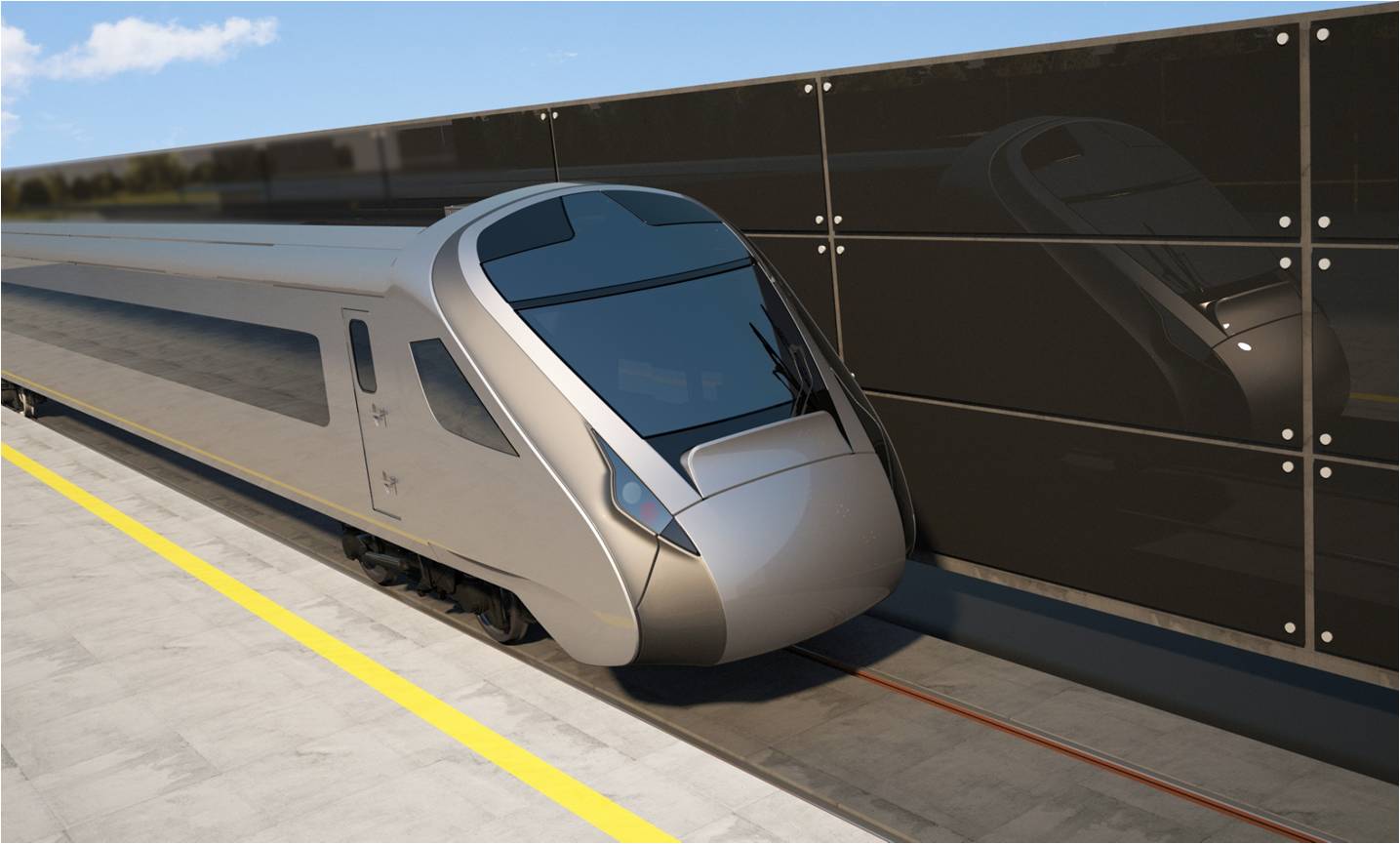 2 new 'world class' trains to cut travel time by 20%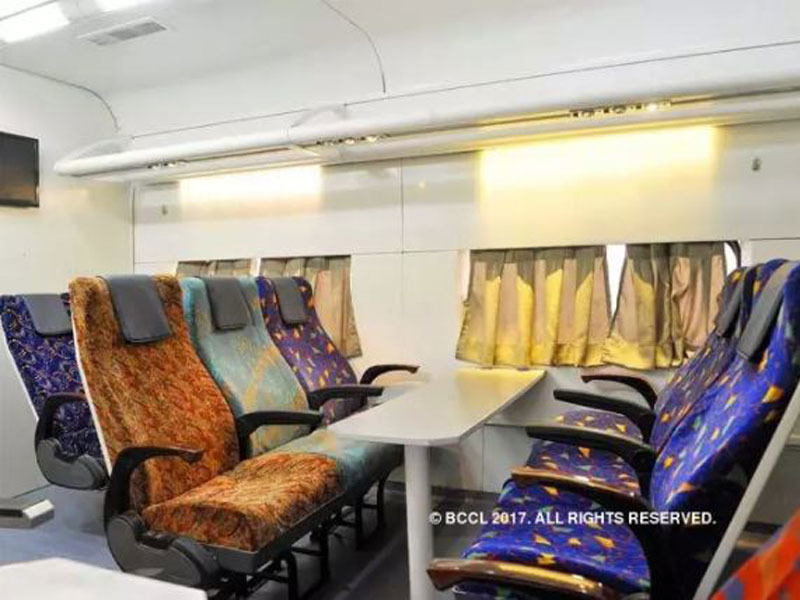 HIGHLIGHTS
The Chennai-based Railways' Integral Coach Factory has designed the train sets and will manufacture the first with 16 fully air-conditioned coaches by June 2018.
Touted as Train 18, it will have 'world-class' passenger amenities such as on-board Wi-fi and infotainment, GPS-based passenger information system and plush interiors with diffused LED lighting.
CHENNAI: By June this year, the railways will roll out a 'first of its kind' semi-high speed, self-propelled train set which will cut down the travel time by at least 20% in comparison to any train drawn by a loco due to faster acceleration and deceleration.

The Chennai-based Railways' Integral Coach Factory (ICF) has designed the train sets and will manufacture the first with 16 fully air-conditioned coaches by June 2018.

Touted as Train 18, it will have 'world-class' passenger amenities such as on-board Wi-fi and infotainment, GPSbased passenger information system and plush interiors with diffused LED lighting.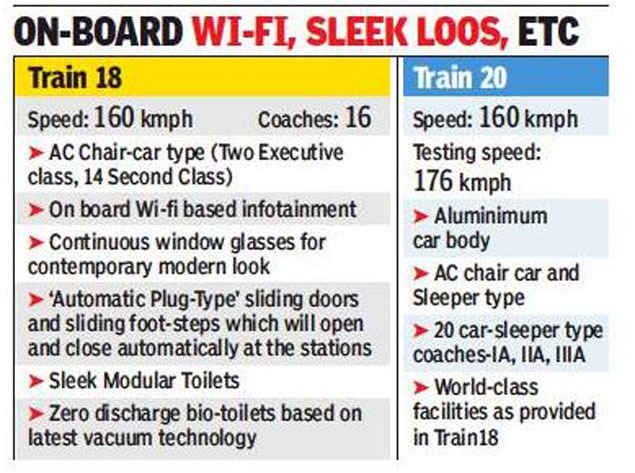 The new train with aerodynamic nose for reduced drag and for improved aesthetics is likely to replace elite Shatabdi Trains currently used for superfast inter-city travel.

Another set of train, named Train 20, is likely to be launched in 2020. These will also be equipped with world class facilities to replace another elite train, Rajdhani Express, used in overnight travel. Both Train 18 and Train 20, 'Make in India' projects by ICF, will be manufactured for half the cost of imported train sets. The only difference will be that Train 20 will have an aluminium body while Train 18 will have stainless steel body.

The train sets (like EMUs), which will replace locomotive-hauled trains, will have continuous window glasses for a contemporary modern look; 'automatic plug-type' sliding doors and sliding footsteps which will open and close automatically at the stations and zero discharge vacuum-based bio-toilets. ICF general manager S Mani said, "Train 18 can travel at speeds of up to 160 kmph. It will have worldclass facilities for passengers. First set of train will be ready by June 2018."

A study shows the railways will be able to cut travel time by three hours and thirtyfive minutes on the 1,440-km Delhi-Howrah route. The Rajdhani and Shatabdi Express can go up to 150 kmph, but the average speed continues to be 90 kmph as there are several speed restrictions. Given that applying brakes and accelerating takes longer using locomotives, the 'train sets' will cut down on time. The reduction in journey time was calculated at a maximum permissible speed of 130 kmph and could come down further if the permissible limit is raised to 160 kmph.
Source: Mahendra K Singh | TNN | Updated: Jan 23, 2018, 09:09 IST

Budget Report - focus on Rail Sector 2018-2019 of India
All Time High' Allocation For the Railway Sector Over INR 1.48 Lakh Crore ($ US 23.3bn) to be allocated to the Railways in the next Fiscal Year which is the highest in IR's history .
Key Points :
India needs massive investments estimated to be in excess of Rs 50 Lakh Crore in Infrastructure to increase growth of GDP connect and integrate the nation with a network of roads, airports, railways, ports and inland waterways and to provide good quality services to our people.
In this Union Budget, the government has made an all time high allocation to rail and road sectors.
The major focus of the Government has been on Strengthening the railway network and enhancing Railways' carrying capacity.
Railways' Capex for the year 2018-19 has been pegged at 1,48,528 crore.
A huge part of this Capex is devoted to capacity creation.
Focus on Railway Sector :
New Lines , Railway Track Doubling & Gauge Conversion :
18,000 Kms of doubling, third and fourth line works and 5000 kms of gauge conversion would eliminate capacity constraints and transform almost entire network into Broad gauge.
The government will spend as much as Rs 11,000 Crore to add tracks to Mumbai Local Train Network.
Maintenance of track infrastructure is being given special attention.
Over 3600 kms of track renewal is targeted during the current fiscal.
Railway Electrification :
There has been significant improvement in the achievement of Physical targets by Railways as well.
The government is moving fast towards optimal electrification of railway network. 4000 kilometers are targeted for commissioning during 2017-18.
Dedicated Freight Corridor :
Work on both Eastern and Western Dedicated Freight Corridors is in full swing. Rolling Stock.
Rolling Stock :

Modern trainsets (T-18 , T-20) with the latest state-of-the-art amenities and features are being designed at Integrated Coach Factory (ICF), Perambur. First such train-set will be commissioned during 2018-19.
During 2018-19 , Procurement will be done for :
12000 Wagons
5160 Coaches
700 Locomotives (approximately)
Safety In Railways :
The total expenditure planned on safety activities including Rashtriya Rail Sanraksha Kosh (RRSK) is Rs. 73,065 Cr.
Besides the elimination of Unmanned Railway Crossings on all busy routes and shift to production of safer LHB coaches, there is focus on track renewal with the highest ever outlay ever.
CCTVs will be provided at all stations and on trains to enhance security of passengers.
Railway Station Redevelopment :
Redevelopment of 600 major railway stations is being taken up .
All stations with more than 25000 footfalls will have escalators.
All railway stations and trains will be progressively provided with wi-fi.
Mumbai-Ahmedabad Bullet Train Project :
Foundation for the Mumbai-Ahmedabad bullet train project, India's first high speed rail project was laid on September 14, 2017.
An Institute is coming up at Vadodara to train manpower required for high speed rail projects. Other Major Steps
Other Major Steps :
A suburban network of approximately 160 kilometers at an estimated cost of Rs.17,000 crore is being planned to cater to the growth of the Bengaluru metropolis.
Increasing use of technology like ''Fog Safe'' and ''Train Protection and Warning System.
A decision has been taken to eliminate 4267 unmanned level crossings in the broad gauge network in the next two years.